''We do not have time to lose; our patients have no time'' – Peter Kufer, vice president, BiTE® Technology
2020 marks Amgen's 40th anniversary. Forty years of tireless research using pioneering science and innovation to find new solutions for patients suffering from serious illnesses.
In just one example, Amgen has advanced the immuno-oncology field with the development of the BITE® technology. BiTE® is a targeted immune-oncology platform which works by engaging the patient's own T-cells to accurately identify and then destroy cancer cells. It is designed to outsmart tumor escape mechanisms as it relies exclusively on tumor-specific antigen expression and not on other forms of recognition that tumor cells can mask to avoid detection.
According to Prof. Dr. Peter Kufer, vice president of BiTE® technology at Amgen, "It is like putting a pair of glasses on the T-cells, so they can recognize previously undetected cancer cells and destroy them, leaving nothing to chance."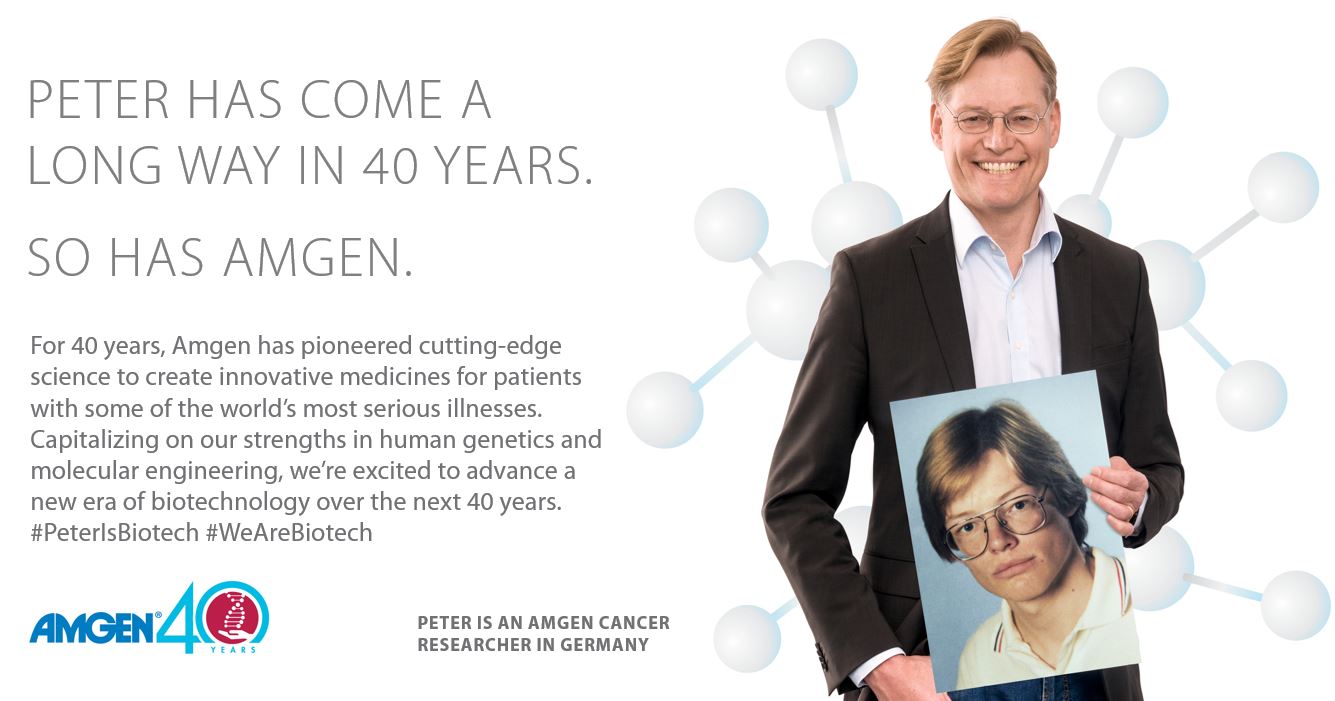 Dr. Kufer first presented the BiTE® technology in 1994 at the IBC Antibody Conference and has since won awards for his innovative work. While he is often referred to as the founder of BiTE® technology, he is quick to give credit to his team of scientists who have worked alongside him for years.
Much of this work is taking place at Amgen Research Munich, where a team of scientists led by Dr. Kufer have been working diligently on the development of the BiTE® platform for decades. What all the scientists working with Peter Kufer seem to have in common is their dedication to serve patients.
Dr. Tobias Raum, executive director, BiTE® Technology Research, has worked together with Dr. Kufer on the platform for more than 25 years, starting his career in Dr. Kufer's laboratory at the Institute for Immunology at Munich University, LMU.
Dr. Tobias Raum (left) and Dr. Peter Kufer (right)
Dr. Raum's motivation and dedication to his work is derived from his belief that what he does matters for cancer patients. The technology he worked on earlier in his career has significantly advanced the area of immunotherapy related to T-cell recruiting.
"This makes my daily work scientifically rewarding, as it continues to be at the cutting edge of modern cancer therapy," said Dr. Raum.
Dr. Ralf Lutterbuese, scientific director, BiTE® Technology, started to work on the BiTE® platform in 1996 during his Ph.D. thesis work in Dr. Kufer's laboratory at LMU. He is driven by the knowledge that his work in the early research and development phase contributed to clinically proven antibody concepts as well as to new research that will eventually help patients to fight severe illnesses like cancer.
"My hope is that our scientists can progress the BiTE® platform to a stage where patients across multiple cancer types can benefit from its power to activate the immune system, especially in solid tumors," said Dr. Lutterbuese.
Dr. Patrick Hoffmann, principal scientist, BiTE® Technology, was one of the earliest employees of Micromet (acquired by Amgen in 2012). He began working on the platform in 2001 when Dr. Kufer and his team joined the company. For him, further motivation lies in the ever-changing opportunities and challenges presented in their field of work, and the cooperation with his team and colleagues to solve them.
"In 2002 nobody knew anything about long term T-cell behavior once it had been activated and already killed a tumor cell," Dr. Hoffman said. "One way to check for this was direct observation by microscopy after bringing together the tumor cells, T-cells and a BiTE® molecule. Since static images would not show the speed of progress, we used a computer program to turn the images into a video. This dramatic video excited and convinced us that T-cells are not only efficient tumor fighters but are also capable of changing in the presence of a BiTE® molecule into a search and destroy mode thereby killing multiple tumor cells over time."
Between them, Dr. Kufer and his team of scientists have dedicated over a hundred years of research into exploring the potential of BiTE® technology and they're not done yet, knowing that there is still a huge unmet need for safe and effective immune-oncology treatment across multiple solid and hematologic malignancies. The team will continue investigating the BiTE® platform with the same dedication as they have done for the past two decades, knowing that every day that goes by is precious time for patients suffering from cancer.
Amgen is presenting data at the European Hematology Association virtual congress from June 11 – 21.
For more information and to register for the congress visit
https://ehaweb.org/