Amgen the Netherlands was ranked 4th place among multinational companies and additional recognition as the country's 'Most Caring Employer'.
"Our Trust Index © and Cultural Audit © report were stronger than last year, and starting this year, we officially were rewarded as a 'Caregiver-Friendly' company, so we are very proud and happy that our efforts in balancing life have been recognized by both employees and GPTW® Our employees work tirelessly to impact lives of patients; we thank them for that and ask how we can focus and improve even further," says Marika Murto, General Manager, Amgen the Netherlands.
Read more about our this story on the Amgen the Netherlands website
Amgen Denmark was ranked 10th place among small companies. Amgen Denmark was also named AmCham's 2019 Foreign Company of the Year. 2019 foreign company of the Years. Read more about this achievement on the AmCham website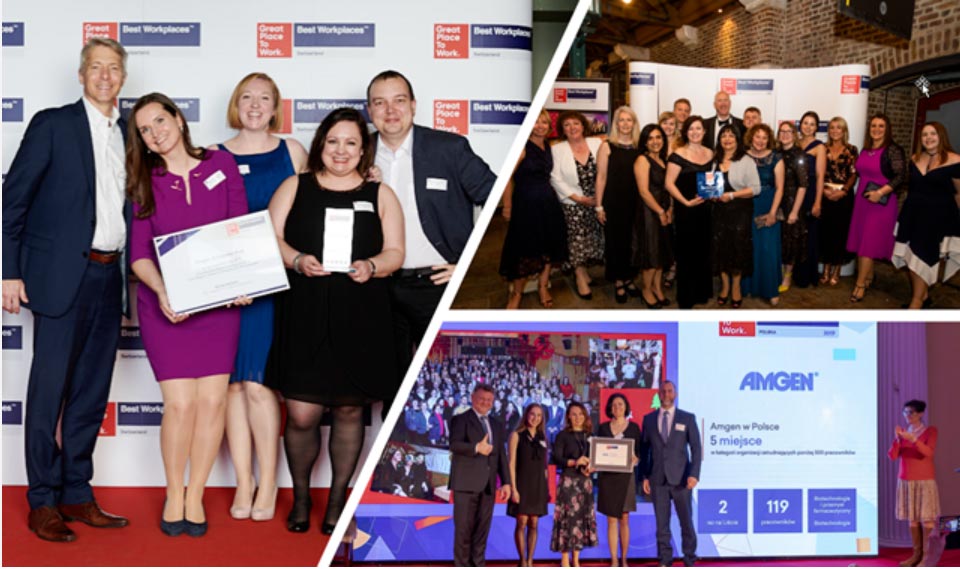 Amgen UK/Ireland was ranked 21st place among large companies (251-1000 employees).
"Innovation and science really drive the Amgen culture in the UK and our teams are inspired by a collective mission to serve patients. We could not be prouder of how engaged our teams are to continually strive to make their company an even greater place to work. Our teams are not only committed to doing the right thing, but they instil a feeling of pride, trust, and camaraderie in the work they do each day to dramatically change people's lives. To place in our first time entering the competition is a fantastic achievement and we are really excited to celebrate this with everybody." said Chris Fox, VP General Manager, and Chris Walker, VP Regulatory Affairs.
Read more about this on the Amgen UK Careers page: and watch their celebration ceremony in this video.
Amgen's Europe Hub, based in Switzerland, was ranked 7th place among medium-sized companies (50-249 employees).
"It is great for the Europe Hub to be recognized by the GPTW® institute, and to follow in the footsteps of our colleagues in the Swiss Affiliate - who were recognized last year. The award gives us even more energy to continue investing in an inventive and collaborative workplace and to support our people and teams. We are very proud of this fantastic achievement!" says Jan Tichy, Director Human Resources, Amgen Europe Hub.
Amgen Poland was ranked 5th place among medium- sized companies 50-500 employees) and being awarded 'Ethical Standards' for transparent business principles, credibility and mutual responsibility that align with UN ethics guidelines.
"GPTW® recognition represents how our colleagues feel every morning when they come to work, engaged and interacting with each other. This is an achievement of all our staff – great individuals who for the last year have been working together, volunteering and engaging in over 25 different initiatives to improve our workplace culture. We focused on how we collaborate and communicate, and care for each other and our community. Big thanks to our committed and inspiring teams – I am really proud to be part of this organization," says Gabor Sztaniszlav, General Manager, Amgen Poland.