To ensure our ongoing success, Amgen is committed to promoting and maintaining an inclusive, high-performing culture where all team members embrace and leverage each other's talents and backgrounds. Our commitment to diversity is articulated in our values and reflected in every part of the organization.
At Amgen Europe we take Diversity, Inclusion and Belonging seriously, because we recognize that in order to Serve Patients effectively, our employees need to feel valued for who there are and comfortable bringing their whole selves to work. An inclusive work environment in which we all feel a sense of belonging helps us to do our best work in our fight against grievous illnesses.
Watch this video to learn more about how Amgen is coping with diversity during the global COVID-19 crisis.
Diversity, inclusion and talent is an important component of Amgen's commitment to Corporate Social Responsibility.
We foster and encourage diversity in the workplace. We strive to build a workplace culture that reflects the communities and patients we serve. Our team of 22,000+ scientists and professionals bring distinct perspectives, backgrounds and experiences to all we do.
A diverse and inclusive workforce empowers us to innovate and better represent our patients.
Amgen is taking real, intentional steps to build a diverse and inclusive workforce. This fosters innovation, strengthens our global workforce, and drives our ability to serve patients.
We are taking real, intentional steps. And we are all part of it.
We must keep our ears open. Great ideas can come from anywhere. If we're not listening, we will miss the opportunity to bring great strategic insight into our business.
We continue to build a community of belonging.
Diversity of thought, experience, and culture should and must be the norm, to truly represent the full diversity of Amgen's global reach.
At Amgen we see diversity at its best.
We put people who are different—across countries, races, sexes, religion—together to work toward one common goal: getting medicine to patients.
When we realize the power of inclusion, all boats rise. We all win.
When we all feel a sense of belonging, we become empowered to bring the full range of our skills and experience to our work—and to achieve our fullest potential. Addressing issues and challenges with a wider range of perspectives and approaches leads to more creative problem-solving and effective solutions.
Our commitment to diversity is articulated in our values and reflected in every part of the organization.
We pursue connectivity and diverse points of view – often by tapping into our Employee Resource Groups (ERGs). Our ERGs are groups of employees organized around a primary diversity attribute that promote employee development, professional growth and inspiration. Current ERGs in Europe include: the Balance Network (Rotkreuz), We2 (in Breda & ADL) and Pride (ADL). Amgen is an Equal Employment Opportunity/Affirmative Action employer.
Amgen is an Equal Employment Opportunity/Affirmative Action employer and provides reasonable accommodation for qualified individuals with disabilities and disabled veterans in job application process.
Our culture is what makes Amgen a special place to work. This exceptional culture has been recognized worldwide – Amgen has won numerous employer awards for diversity and inclusion, corporate responsibility, positive workplace culture, raising public health awareness and environmental stewardship.
In Europe, Amgen has won the Great Place to Work Award across numerous sites. Results from the Great Place to Work (GPTW) survey confirm Amgen's dedication to promoting and maintaining an inclusive, high-performing culture. In the 2019 GPTW survey, 94% of surveyed staff in Europe said people were treated fairly regardless of their age, race, sex and sexual orientation.
In a late 2019 internal employee survey designed to gather meaningful feedback from Amgen staff on the health of the organization;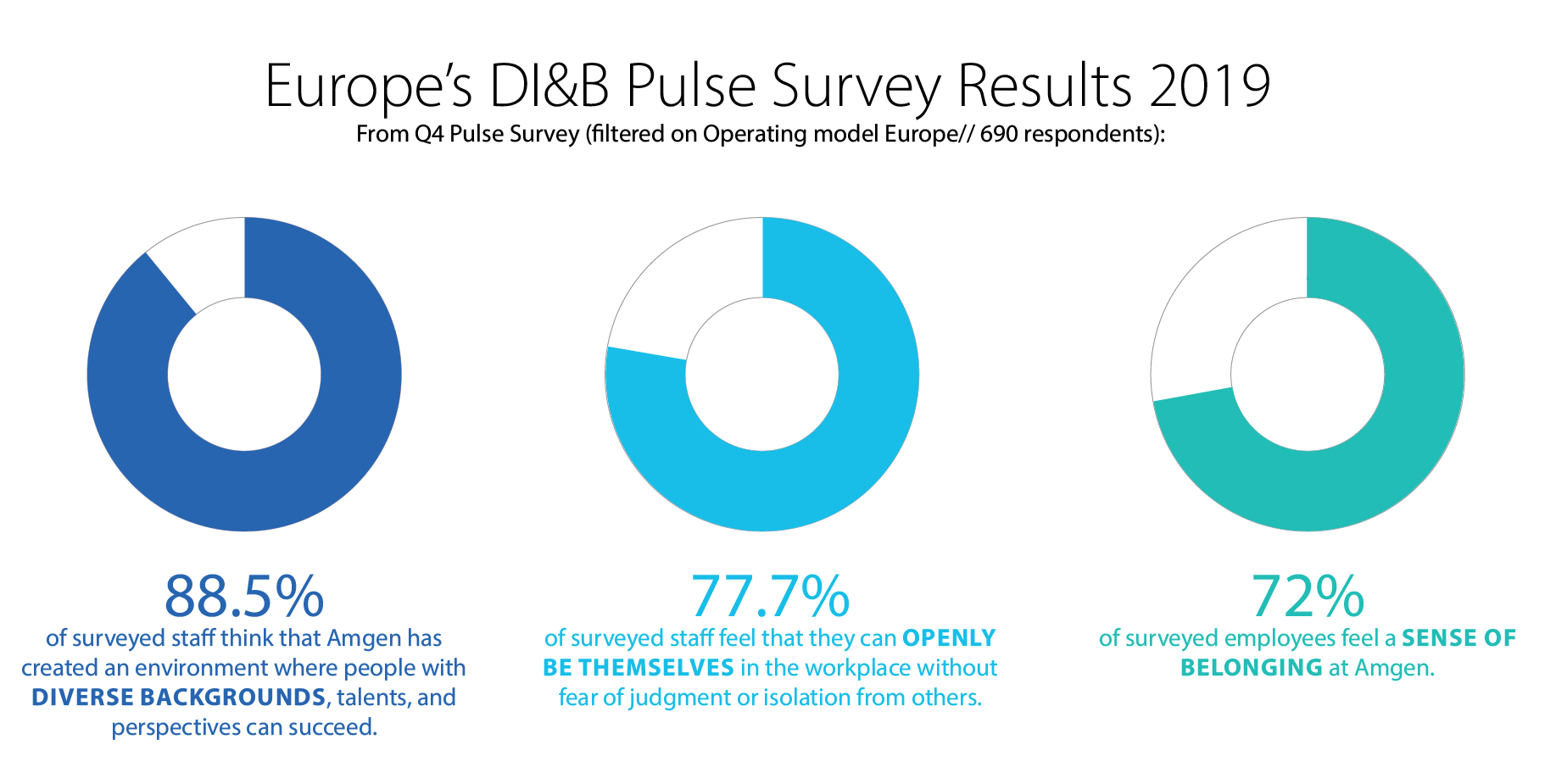 For more information on Amgen's commitment to Diversity and Inclusion, Culture and Careers, please visit our Diversity and Inclusion page on Amgen Careers.
Examples of Amgen's commitment to diversity, inclusion and belonging exist across Europe.
Amgen Italy: For the second year running, Amgen Italy has been named a "Best Workplace for Women," and the first among pharmaceutical companies.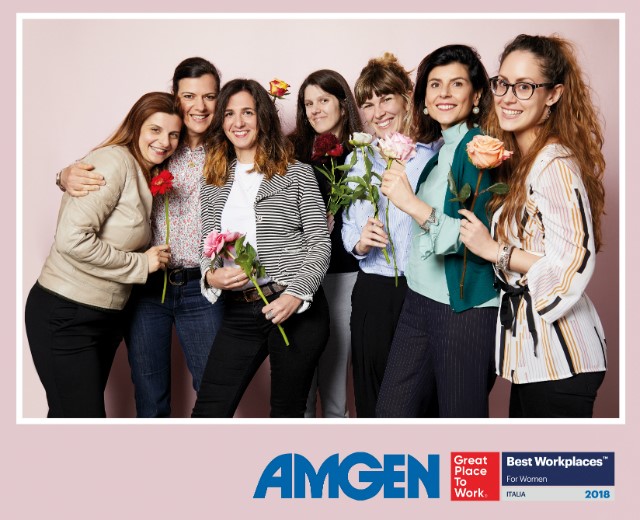 At Amgen Italy, women make up over half of the total number of employees, and 30% of management roles. Women live equality of opportunity and equality of pay as a 'fait accompli.'
Livia Alessandro, Human Resources Director, explains. "When I joined Amgen, I found that equality is not an option, it's just in our DNA. From the HR perspective, employees performing similar work at the same level are paid consistently."
Employees benefit from childcare options, maternity leave, paid time off to care for children and aging parents and MAAM (Maternity as a Master): a program to help parents transfer skills activated by the birth of a child – such as managing daily conflicts and crises through listening, finding creative solutions and negotiating – into the working world.
Read more about this on the Amgen Italy website.
Amgen Spain: Amgen Spain has a great record for gender diversity with a 50/50 gender split at a leadership level.
Companies with over 50 employees in Spain must reserve 2% of staff for people with disabilities and/or apply some alternative measures that encourage disability inclusion at work. Amgen Spain has always been compliant with this regulation.
In 2016, Amgen Spain also started work on an Equality Plan (EP), with the aim of advancing equality and good relations across the organization.