Our vision is that together, we create an environment where we feel included and we belong. When we feel a sense of belonging, we can feel proud to be part of Amgen, and can thrive and connect as our best selves, fostering innovation and delivering for patients.
We encourage all types of visible and invisible diversity and aspire to mirror the patient communities we serve and the local communities we are part of. Our global presence is also strengthened by having a workforce that reflects this diversity.
Our commitment to diversity is articulated in our values and reflected throughout the organization. Our leaders role model these values and set the direction for our Diversity, inclusion and belonging (DI&B) priorities, ensuring this culture is truly embedded in our organisation through targeted efforts and actions. Each of the countries in our region is accountable for taking actions that help us work towards our vision.
DI&B is an important component of Amgen's commitment to Corporate Social Responsibility. Amgen is an Equal Employment Opportunity/Affirmative Action employer.
Diversity of thought, experience, and culture should and must be the norm. We are on an ongoing journey that is both proactive and sustainable, to become a truly diverse and inclusive organization. This journey requires deliberate and constant action and enables us to continue to foster innovation and drive our ability to serve patients.
As an organization committed to being science based, we follow a continuous learning approach to advance science, driving discovery and igniting innovation that works to help reduce disease. We embed this approach in our mindsets and behaviors, bringing diversity of people and thought to this process.
We put people who are different — across countries, races, gender, religion, cognitively diverse — together to work toward one common goal: getting medicine to patients.
Inclusion empowers us all to bring the full range of our skills and experience to our work—and to achieve our fullest potential. The ability to address issues and challenges with a wider range of perspectives and approaches leads to more creative problem-solving and effective solutions. We want all our people to be engaged in this and feel they have a voice that is encouraged and valued
We pursue connectivity and encourage diverse points of view – often by tapping into our Employee Resource Groups (ERGs). These are groups of employees organized around a primary diversity attribute that promote employee development, professional growth and inspiration and create a sense of belonging for members.
The groups achieve this by arranging events and shining a light on activities that help build a culture of inclusion and belonging, such as International Women's Day and PRIDE month. They also impact our business by providing diverse perspectives and expertise.
An internal survey conducted in September 2020 told us that in our region, our people have a strong sense of belonging, with 83% feeling positively engaged (compared to an industry benchmark of 74%). As well as feeling a strong sense of belonging, our people tell us they work in an environment that's free from harassment and discrimination, and they feel free to speak their mind without fear of negative consequence.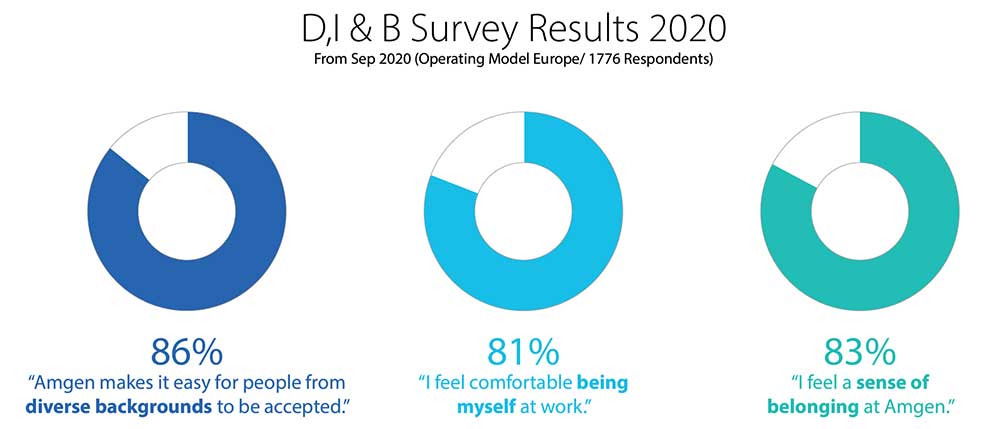 Our culture is what makes Amgen special and this exceptional culture has been recognized worldwide. We have won numerous employer awards for diversity and inclusion, corporate responsibility, positive workplace culture, raising public health awareness and environmental stewardship.
In Europe, Amgen has won the Great Place to Work (GPTW) Award across numerous sites as well as regional recognition.