Country-Specific Access Approaches and Collaborations
Innovative medicines offer our best hope to effectively manage disease and contain long-term healthcare costs, which is why Amgen prices its medicines responsibly, partners with payers to align on value, and develops patient support programs to help ensure broad access of our novel therapies to appropriate patients. Our high-quality, potentially more affordable biosimilars provide additional treatment options and have the potential to expand access.
Amgen is committed to the responsible pricing of our products according to the value they deliver and aligning with the specific requirements of the health system of each individual country. That's why we consider the economic and social value of our medicines and the clinical and economic burden of diseases in our approach to pricing in the individual countries in which we operate.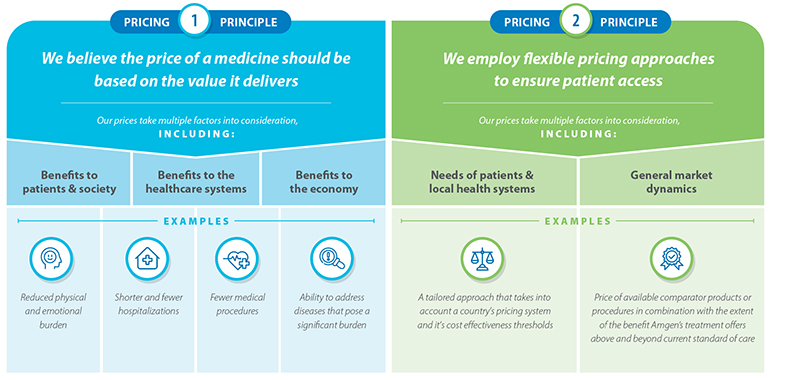 Backed by Amgen's four decades of biologics expertise, our high-quality biosimilars can potentially offer more affordable, life-altering treatment options that contribute to the sustainability of our healthcare system and allow for greater investment in new medicines for patients.1
Amgen has one of the largest stakes for biosimilars in the industry. As we continue to launch biosimilars over the coming years, we believe that they will bring meaningful cost savings to patients and the healthcare system.
For more information, visit our Amgenbiosimilars.com website
Through patient assistance programs, expanded access to investigational therapies, donations, and other programs, we've developed support programs for eligible patients around the world as they seek to obtain the medications they need.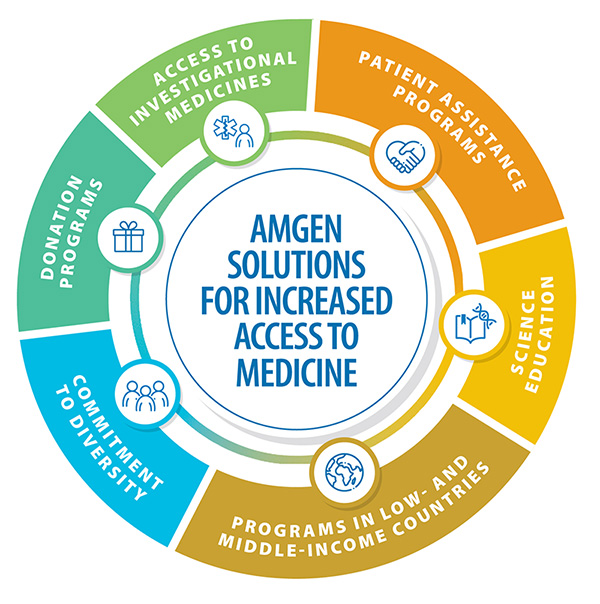 ACCESS TO INVESTIGATIONAL MEDICINES: Amgen supports expanded access and compassionate use to our investigational therapies for eligible patients across the globe.
PATIENT ASSISTANCE PROGRAMS: For those patients who need support in accessing our marketed medicines, Amgen has patient assistance programs in many countries to help eligible patients obtain the medicines they need
SCIENCE EDUCATION: The Amgen Foundation is dedicated to science education and has donated nearly €145 million ($175 million) over time to advancing science education globally
PROGRAMS IN LOW- AND MIDDLE- INCOME COUNTRIES: With successful program implementation in more than 39 countries, Amgen is dedicated to working with global, regional and local stakeholders to improve health via access to our medicines in low- and middle-income countries
COMMITMENT TO DIVERSITY: Amgen maintains the firm belief that an environment of inclusion and focus on building a culture of diversity fosters innovation to the benefit of our ability to serve patients
DONATION PROGRAMS: Donations of medicine can play a role in meeting an immediate need for patients in low- and middle-income countries who cannot currently afford biologic medicines